Now this little kit may seem kinda odd, but there's a story behind it. I've been keeping an eye out for colour challenges, because a) I enjoy them, b) they stretch me and c) it's always eye-opening how people can create such diversity from a handful of colours.
Anyhow I came across another today and it had a theme as well as a palette...it was in response to a kit request from someone who's hubby was retiring from working in road construction...so a combined theme of 'retirement' and 'road works'. Sounded like fun so I gave it a shot.
But when I'd finished and went back to look at the submission guidelines, I realised that the site was planning to sell the submissions, so I didn't send it in. Don't get me wrong ... I'm not criticising them, they were stating it clearly and it was my fault that I hadn't read it properly first time around...it's just that I didn't feel comfortable submitting on that basis. So I decided to release it here as normal...though because it's a fairly specific theme, I'm not sure how much use it will be to anyone else lol!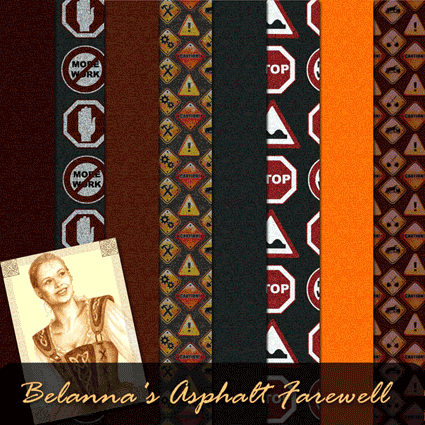 There are four plain papers with an asphalt texture (which the preview really doesn't do justice), and four patterns on an asphalt background, and a total of twelve stickers...hopefully you'll find some that you can use...if so I'd love to know what lol!!!!
Belanna's Asphalt Farewell - Papers
Belanna's Asphalt Farewell - Elements