Here's a kit I've been longing to release for ages...I created it last month but decided to enter it for the Little Dreamer Designs' Apprentice contest. Sadly my little effort didn't even make it through the qualifying stage, but I really like it and wanted to share it with you anyway. I think it will be perfect for St Patrick's Day, but also pretty useful for Easter or heritage stuff.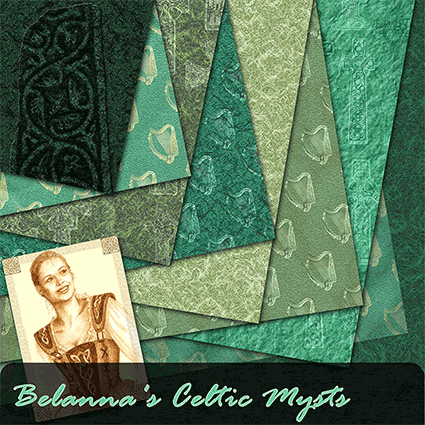 The original entry was limited to just three papers and three elements, but in order to actually decide on three papers, I made quite a few more...and I'm working on lots more elements to go with it, hoping to get some of them finished and uploaded over the weekend, or early next week.
(Curious what I'm working on? Well there's a mixture of celtic knotwork, mythical beasts, lace, precious metals, sheer fabric and stonework...and that's just for starters lol! There might even be a shamrock or two, but I'm afraid if you're hoping for leprechauns and rainbows, you'll be out of luck lol!)
But for now it consists of 9 papers, four elements and my first ever alpha...it's a very simple uncial alpha but I rather like it and hope you will too.
And I have a question for you! I seem to recall seeing an action somewhere that automatically separates letters and saves them individually...but can't remember where! If anyone has any ideas or can point me in the right direction, it'd be much appreciated, cause it's a boring task to do manually lol!!! I've managed to create one myself that tackles half the job which saved me some time, but I'd love one that does the whole thing
(and maybe makes some tea while I'm waiting, good idea eh?)
But without any further ado, here are the links, and I'd love to know what you think of it, or if you use it, so please let me know!
Belanna's Celtic Mysts - Alpha
Belanna's Celtic Mysts - Elements
Belanna's Celtic Mysts - Papers 1
Belanna's Celtic Mysts - Papers 2
Slainte!