I find that whenever I plan to do something...especially once I've actually said it to someone else...I'm invariably distracted by something else and the original something rarely happens lol! Which is a rather long-winded way of saying, I said I was going to work on some Valentine goodies, and ended up making baby things instead...there really is no hope for me, sigh...
Anyway, as anyone who's read my holiday entries will know, we travelled all the way back to Guernsey in November to meet our new grandchild, Amy (a real cutie pie!). Then my friend Nicole recently had a little girl, Maddy ...and she's a real cutie pie too! Anyway, Nicole mentioned that she was looking for some 'baby girl' themed stuff to scrap baby invitations with, and I was struck with guilt because I haven't yet scrapped any of Amy's photos ... and I went looking for something appropriate and couldn't find anything I really liked. So then I thought what the heck, I'll have a go at making some. And hence 'Cutie Pie'....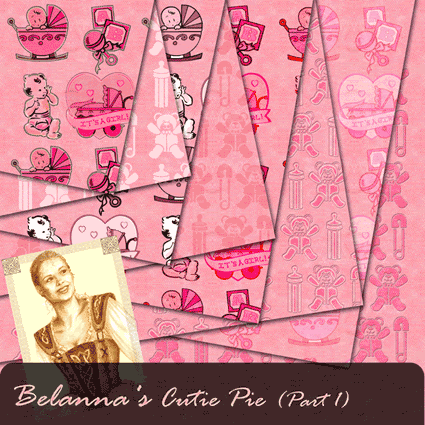 The first three packs have two patterns each in four finishes, so eight papers in all. Then I thought, someone's bound to want some 'baby boy' versions, so rather than make you wait while I find the time and inclination to do the 'blues', I created a fourth pack that contains overlays of the six patterns, plus a couple of plain papers. So now you can use them on whatever colour backgrounds you prefer...though bear in mind that a couple of the patterns clearly say 'It's a girl' lol!
So if you'd like them for your own 'cutie pie' (or one on the way!) here they are:
Belanna's Cutie Pie (Part 1)
Belanna's Cutie Pie (Part 2)
Belanna's Cutie Pie (Part 3)
Belanna's Cutie Pie (Part 4 - Overlays)
Anyway, I hope you like them, cos I've already got some ideas for elements to go with them...and if you use do use them, let me know, cos I'd love to see!