This started out as a mini add-on to the 40s Femme Glam kit - and somehow blossomed into a full kit itself. I usually struggle with naming things, but this just declared itself to me - so let me explain because it's a little odd.
Way back when I originally showed the Fun Furs (which eventually became the 40s kit) a pinkie chum asked for them in green (ours is not to reason why) and so I created some. Then when I was creating the marcasite jewellery for the 40s kit, I remembered my mum's brooch - the marcasite and Connemara marble one I mentioned - and made several inspired by that - so it seemed only natural to pair them with the green furs as an add-on.
But as I started to package them together yesterday, there were great celebrations in Ireland (and in many European cities I understand) as they announced the result of the Irish national referendum on the Lisbon Treaty was a resounding
NO WAY!
Makes a girl proud so it does.
And there was fond talk of all things Irish including the
Celtic Tiger
(as the 90s resurgence of the Irish economy is affectionately known). And I pondered, not for the first time, what a
Celtic Tiger
would actually look like if such a thing really existed - which of course it doesn't - when I realised I'd already answered my own question - with these green furs! And since it's natural hunting ground would probably be in the wilds of Connemara (a little like the Beast of Bodmin roams the Bodmin moors) - hence the name.
Yes, I know, this means nothing to anyone but me, but it was such a weird and wonderful moment, I wanted to share it with you! So in honour of the voice of the Irish people having rung out loud and clear across Europe for the first time ever....I give you....
Connemara Tiger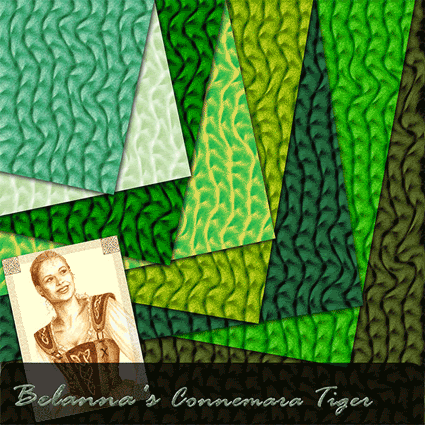 Then having gone so far as to give it a glorious name, I decided that it deserved its own alpha - which then resulted in four - and an accidental set of framestrips to boot! So the full kit now consists of:
8 assorted Connemara Tiger fur backgrounds
2 Connemara marble frames
2 Glassed fur frames
8 assorted frame strips
1 Connemara marble bead frame
10 Connemara marble & marcasite trinkets - flowers, hearts, ovals, shamrocks
2 x furry alphas (lowercase only)
2 x Connemara marble alphas (upper and lowercase, numbers & punctuation)
Since Connemara Marble is a natural stone, it comes in a range of shades of green from deepest forest to mossy - and I've used a couple of my favourites to create the alphas - one of which is framed in chalk, and the other in limestone - both abundant in the locality. Equally I think the Connemara Tiger might be part chameleon - with fur that subtly changes colour to enable it to blend with beautiful Connemara countryside (which is probably why it's never been caught or seen before!) so I've used a couple of the darker ones to create some 'furry' alphas which I think are rather cute.
I'm currently waiting (impatiently!) for the files to upload - so in the mean time, let me ask you a question. Are you ever puzzled by the things that you love that your other half hates - and vice versa? I'm lucky that when it comes to likes and dislikes we are predominantly in agreement - but there's a odd few things where we differ with a passion - and it seems to be mostly about food:
I love fresh tomatoes - he can't abide the sight, smell or taste of them
He loves tomato soup - I despise it
I love Branston pickle - especially on cheese sarnies - it makes him shudder
He loves Bovril - on pretty much anything - just the mention of it makes me feel ill
These aversions are so strong that we've laid down some ground rules for when either of us fancies a food that offends the other...
You must inform the other party before consuming the offensive food
You must not consume it in an enclosed space (like in a car or indoors when the weather is too foul to open the windows)
You must not leave behind any traces - cutlery and plates must be cleaned immediately rather than left in the dishwasher to fester
Finally, and this is the most important rule of all - you must allow time for a decent snog before consuming the food - since you will not be allowed within kissing distance for some considerable time afterwards...
Mind you, sometimes it's worth it just for the excuse to snog lol! But I wonder if there are other couples out there who have such intensely opposite passions for odd foods? So consider yourself tagged if you've read this to tell me if you do or don't, and if you do, what foods are involved and have you got any special rules about them?
And now for one final item (the upload is about 95% so I'll just have time) - I wonder if you've noticed that there are two new links under the
Must Haves
section on the left? These are two places I've discovered recently that I really recommend you visit.
Treasured Finds
is a wonderful store where you'll find jewellery, frames and much, more (including some fab Celtic pieces) all in sterling silver. I've just bought my mom a lovely set of silver sewing items all intricately decorated. Their prices are very reasonable, and I'd certainly be spoiling myself rotten if I wasn't stoney broke lol! The store is owned and run by a charmingly nutty husband, wife and cat team - read their FAQs - it's so funny!
Aon Celtic
is the home of a superb Celtic artist - Cari Buziak - and her work is simply stunning - and you can own it on prints, clothes, jewellery and so much more. At the moment, just looking at it will have to be enough for me - but then it's so inspiring, so I'm not complaining.
And before you ask, no I'm not on commission, not related or affiliated - I just really love the work on both sites and think you will too.
And finally, the upload is finished, so here are the links:
Belanna's Connemara Tiger - Papers
Belanna's Connemara Tiger - Elements
Belanna's Connemara Tiger - Alphas 1 & 2
Belanna's Connemara Tiger - Alpha 3
Belanna's Connemara Tiger - Alpha 4
Now I realise this may have limited appeal, being green, but I hope someone out there will enjoy it - and let me know if you do.
Slainte & have a great weekend!