The song that's been going round inside my head these last few days, is
Marie's Wedding
, a traditional Scottish folk song that I fondly remember being performed by the Clancy Brothers & Tommy Makem. The rather jaunty chorus goes...
Step we gaily on we go, heel for heel and toe for toe,
Arm in arm and on we go, all for Marie's wedding
Over hillways up and down, myrtle green and bracken brown,
Pass the sheeling through the town, all for Marie's wedding...etc etc
It's a lovely little ditty and probably on my mind because I've been seeing a lot of bumph about weddings lately... we are coming up to wedding season I suppose, so that makes sense. Which put me in mind to do something wedding-ish, and I remembered that a couple of people had mentioned having a Claddagh theme for their weddings, so I put two and two together and came up with this: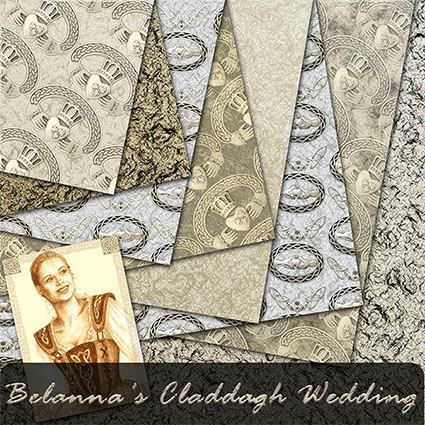 Claddagh Wedding
consists of:
5 patterned papers

3 textured papers

2 decorated frames

2 wedding cake stickers

2 wedding cake chipboard pieces

1 Celtic rose & knot doily

1 Celtic rose & knot sticker

2 intertwined Celtic symbols

2 decorative horse shoes

2 iced wedding favour cookies

3 wedding invitation seals

1 Celtic heart cake topper

A collection of Wedding words

1 complete alpha - upper case, lower case and numbers

9 framed Celtic symbols and one blank
I started with some papers that didn't make it into the original Claddagh Love kits because I was working to set colour palettes. I'm really pleased with the alpha, and hope you'll like it because it turned out better than I could have hoped. I also really love the two Celtic symbols (see the top right corner of the preview). Intertwined animals are often used a wedding or marriage and I thought these two (sea horses and birds) were perfect, and thanks to a combination of styles, the end result is simply gorgeous - a little like a soft gold enamel with a stone edge. If I was getting married (which I'm not and not likely to be lol!) this would be my wedding stationery, no doubt about it.
Some of the other pieces I'm not so sure about, so if you download it, I'd really love to know what you like or don't like from it - also whether the element and alpha sizes are too big, too small or about right? All feedback is welcome, and if you take the time to help me improve, it means I can offer you better stuff in future eh?
Belanna's Claddagh Wedding - Elements
Belanna's Claddagh Wedding - Papers
Belanna's Claddagh Wedding - Alpha
Ooops! Just realised I forgot to mention the fonts used in the TOU - for info they are Irish Blessings and Cry Uncial.