The last colour challenge for the month is at
RAKScraps
hosted by Connie, where the theme is mums and family. Now those of you who've been with me for a while may remember the cards I made for Mother's Day...sigh!
Anyway, I really liked the papers because the stone represents my mum's strength and the damask is because she was a damask weaver before she got married - so I've recreated them in this month's colour palette (along with some matching beads and baubles) and hence we have:
Trinkets for Mum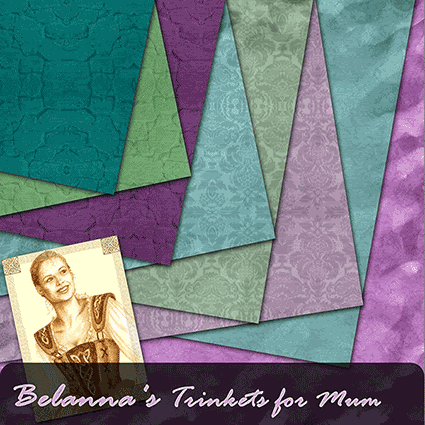 which contains:
3 stone textured papers

3 crumpled damask papers

3 crumpled textured solids

2 small bead necklaces (frames)

2 dragonfly brooches

3 coloured pearl bracelets (frames)

3 coloured pearl earrings (brads)
I was working on the dragonfly brooches for another section of the Grow kit - but I couldn't figure out how to get the Grow theme to work for a Mum-related kit lol! Nevertheless, I think they go just as well with this, and I really like how the coloured pearls turned out - hope you like them too.
Belanna's Trinkets for Mum - Papers
Belanna's Trinkets for Mum - Elements
Ooops - and something that really tickled me today was a sign we passed on the way back from running various errands which said:
Save the earth - it's the only planet with chocolate!
What more motivation do we need????