We interrupt this leave of absence to bring you a little festive moment...also known as the Christmas Around the World collab.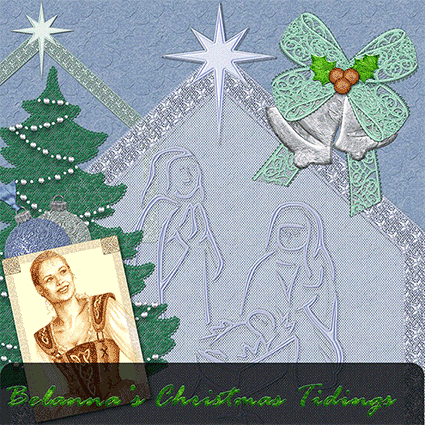 Credit for my little contribution to this collab is due in large part to Karen Stimson of Wool Sweater Street who has been phenomenally prolific of late with new actions and styles and presets and all manner of irresistably good things!!! Many thanks Karen!!!

And also huge thanks to Kimberly aka Fishinmom for the huge amount of time she has devoted to organising this collossal collaborative effort...yay Kimberly!!!!

I didn't bother trying to squeeze everything into the preview, so here's a quick list of what you'll find in Christmas Tidings:
2 embroidered lace Nativity scenes

2 lace Nativity frames

3 embroidered Bethlehem stars

3 lace & holly bows

2 lace bow & papier mache bell clusters

2 embroidered holly sprigs

2 lace Christmas trees

6 lace Christmas baubles

6 patterned papers

6 embossed solid papers
Links will be available below from December 12th to 31st:

Belanna's Christmas Tidings - Elements
Belanna's Christmas Tidings - Papers

If you've stumbled across this post and want to know more about the collab, you'll find everything you need at the official blog:
Christmas Around the World
And finally, a big hug to everyone who's stopped by recently, it's much appreciated!